Procurement is always a challenge. But with today's disruptions in the global supply chain, it becomes even more critical for purchasers to learn all they can about potential partners in order to find the right product at the right time from a reliable supplier.
In plastics, there are several reasons lead time can be extended; low availability of raw materials is one of those reasons. An injection molder that understands these supply chain issues and clearly communicates them to the customer helps customers prepare in advance to mitigate long lead times. Other supply chain issues can be reduced by having an injection molding partner who can design and build tools and perform other post-molding operations.
What do you look for when selecting a qualified injection molding partner? What do you need to provide to receive an accurate estimate? And what questions do you need to ask to ensure that your partner will provide a quality product within your budget and timeline?
In this guide, we break down the process of weighing purchasing considerations including cost, quality, delivery, and reliability. We explore some common problems and solutions and provide a thorough set of questions to use in preparing for, requesting, and evaluating a plastic injection molding estimate. This information should help prepare you to select a partner for your plastic injection molding project who will meet your requirements and provide on-time, on-budget delivery.
Purchasing Considerations
Purchasing injection-molded components is a major undertaking. And choosing a plastic injection molding partner can be nerve-racking. Suppliers have different processes, protocols, and communication styles.
What are you looking for in a plastic injection molding partner? What are your expectations for quality, timing of delivery, technology, production capabilities, financial health, and a continuation plan?
All of these are considerations when looking to deliver a project on time and within your budget.
Some partners, such as Crescent Industries, have evolved the capacity to offer post-processing operations to help manage the complete supply chain. This full-service approach can provide design, mold build, molding, secondary operations, and inventory management to help ensure on-time and on-budget delivery.
Choosing a supplier is not simply a matter of choosing the lowest number from a series of estimates. It's important to dig down into the core competencies of the potential partner and understand if they can handle a project from cradle to grave and beyond.

One of the biggest issues in the injection molding industry — for molders and customers alike — is evaluating the total cost of ownership throughout the lifetime of a project. That means understanding the difference between being price conscious and cost conscious.
It's important to understand your needs and to plan for the future. For example, one OEM chose a supplier for an initial prototyping and short-run production. But once the production demand increased, the supplier could not support the required high-volume production due to capacity and resource restraints. They had to move the tools to a supplier who could handle these high-volume orders. On the other end of the spectrum, another customer incurred steep setup fees without understanding that they had chosen a supplier that only did high-volume production.
You are not just choosing a supplier; you are choosing a manufacturing partner.
Basic Problems Avoided Through Plastic Injection Molding Partner Selection
In cases where budget and delivery problems occurred in a plastic injection molding project, it's often true that these problems could have been prevented during the partner selection process. These problems include:
Compromised quality
Unpredictable lead and delivery times
Gaps in capability
There are a number of qualities that plastic injection molding manufacturers can demonstrate to show that they are best qualified to avoid these problems.
Quality
Customers seeking a plastic injection molding partner can ask for a number of assurances about the quality of the work. Injection molding providers can prove their ability to meet quality standards by showing potential customers that they have:
Adequate traceability from resin raw material to the finished product
Quality certifications and protocols that are needed for your industry segment
The ability to track scrap to achieve a quality KPI
A robust molding process that is approved during the mold-building process
An excellent quality inspection lab (team)
Industry 4.0 technology that monitors the injection molding process on all machines live on the production floor
Demonstrated success in the market
Timeliness
A qualified partner should have a process for communicating timelines that involves an initial agreement between customer and manufacturer about timelines and expectations. Procurement challenges do occur, but advance planning reduces these challenges. In plastics, procurement of raw materials (resins and compounds) can take 6 to 16 weeks or more, depending on disruptions in the supply chain like weather-related disasters and global events.
Injection molders also meet expectations of timeliness through transparency in their forecast of the entire process and through supply chain management practices. Some specific ways they achieve on-time delivery include:
Providing mold design, fabrication, qualification, and production in-house: Providing these services in-house cuts down dramatically on the time that would be required to have the project transported and processed elsewhere.
Using Kanban (just-in-time) shipping technology to track and maintain inventory levels.
Using Quick Response Manufacturing (QRM) work cells: Studies have shown that the physical time of manufacturing the product is only 5-12% of the total lead time in a project. Using the

Quick Response Manufacturing (QRM)

system, manufacturers can optimally manage time, organizational structure, system dynamics, and time-based management principles in all parts of the organization.
Using blanket purchase orders rather than waiting for a new P.O. in cases where purchases are recurring or when changes need to be made in dollar amounts, quantities, goods and services, and/or the maximum order.
Capability
Does the partner you are considering have the production capabilities for your project?
In short, your partner must have the equipment to perform the job, provide facilities that are modern and well maintained, and have a plant designed for efficient workflow with flexible manufacturing systems. They should perform process monitoring, scientific injection molding, and decoupled molding to ensure that the best manufacturing process is performed.
Your partner should have demonstrated success in designing and fabricating injection molds. They should be equipped with both horizontal and vertical molding presses, depending on your project needs. In addition, they should offer the highest level of standards for certification and decoupled molding processes.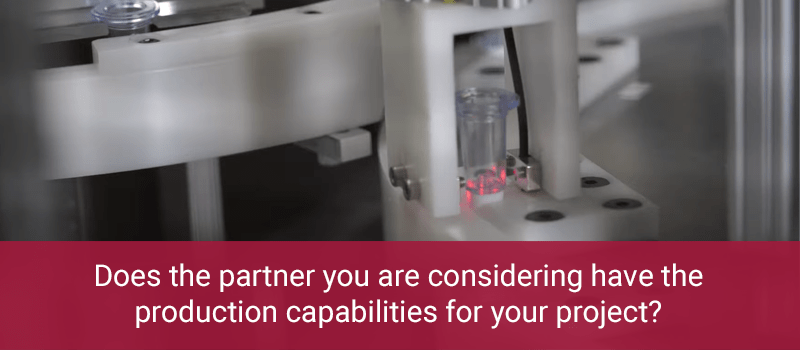 Finally, the financial health of the company is an essential indicator of capability. A potential partner should be able to demonstrate proven success in overseeing operations, such as forecasting into the next quarter, and conducting inventory forecasts. A financially healthy partner not only has all of the equipment, processes, and personnel to complete your job, but has the capacity to acquire assets that will make your job run with optimal quality and efficiency.
Case Study: Finding the Right Injection Molding Partner Solves 3 Key Challenges
"We were looking to find a partner that could support our company's entry into the biopharmaceutical market and also a partner that met all of the technical requirements for manufacturing molded parts for that market." — Pharmaceutical Executive
Technical Challenges
A pharmaceutical company was seeking a partner to support entry into the biopharmaceutical market. They engaged a procurement specialist to research vendors. "We were looking to find a partner that met all of the technical requirements for manufacturing molded parts for that market," an executive reports.
This company had the following criteria:
Molded parts needed to be manufactured in an ISO Class & Clean Room.
The supplier needed to be certified for manufacturing to the ISO 13845 Medical Devices Standard.
The molding tools needed to be manufactured in the United States.
Design Challenges
The customer was seeking to stay with their total budget for three tools with multiple variations of the parts. This presented a significant budget hurdle, but Crescent Industries met the challenge by building injection molding tool sets with removable cavities that would utilize their Master Frame bases to house their tools during production runs.
Timing Challenges
The supplier needed to support a schedule to design and fabricate tooling and produce initial injection-molded parts with a quick turnaround. The solution to this problem was
Working with a partner that could design and fabricate in-house
Working with a partner that manufactured tools in the United States to avoid long transportation line times and the risk of shipping delays.
Questions for Selecting a Plastic Molding Manufacturer
In selecting a contract manufacturer, you need to ask the right questions in order to know if the partner is the best fit. It is helpful to break these questions into two phases:
Questions to ask in the process of initial research into partners, prior to requesting an estimate
Questions to ask when reviewing an estimate from a plastic injection molding supplier
These questions can be useful in your own internal review and, if you find you don't have the information you need, in requesting information from the prospective partner.
Of course, you will also need to provide information to a potential partner to get an accurate estimate, so be prepared to answer all of their questions as well.

Questions to Ask Before Requesting a Plastic Injection Molding Estimate
1. History — questions to determine if the partner has a proven history with repeat customers
How long has the partner been in business?
Who are their previous clients within the industry?
Do they meet your quality certifications for your project?
Do they have the right size injection molding machines/capabilities?
2. Timing — questions to determine if your project will stay on schedule
Does the partner use an ERP system for lot traceability? Do they have the ability to step right into the supply chain?
What does the injection molding partner do to ensure a project will stay on time?
Do they have in-house tooling?
When will the first products need to be shipped from your new supplier?
What is the current lead time on raw materials (resin, colorant, additives, packaging)?
3. Partnership process — questions to determine what it will be like to work with this partner
Does the partner act as an extension of the engineering team (DFM)?
Does the partner have design capabilities to assist in resin selection for the molded parts?
Does the partner have the capacity to complete the project, including secondary operations?
What are the partner's inventory management programs?
How will the partner communicate during all project-related tasks?
Does the partner have a structured and transparent process for meeting objectives, resolving disputes, and working with suppliers?
Does the partner provide preventative tool maintenance? (This is crucial, especially if high volume is expected for many years. It can extend the life of the tool and save costs in scrap rates, reject rates, unexpected downtime, and mold repair and replacement.)
Does the partner have the knowledge to guide you through the material selection process to achieve the desired final product properties?
4. Product-specific — questions related to your specific type of project, such as:
If producing a product such as an implantable medical device that requires

Cleanroom Injection Molding

:

Does the partner manufacture in an ISO Class 7 Clean Room?
Do they meet the ISO 13845 Medical Devices Standard?


Questions to Ask When Evaluating a Plastic Injection Molding Estimate
Does the estimate cover secondary operations to complete the project?
Does the estimate communicate the current availability of raw materials?
Does the quote designate dedicated versus unit tooling?
Where are the tools manufactured? Are they made in the United States? Some companies broker deals between you and an overseas fabricator, and there are differences in quality.
What is the injection molding tool life?
What is the injection molding tool capacity?
What is the cost to produce and qualify new injection molding tools?
(If you plan to use specific resin/material:) What is the availability of resin/material to support production quantities?
Does the estimate demonstrate that the partner has the capacity to produce your product on time and within your budget?
Are you comparing "apples and oranges"?

Does the estimate include the total cost of ownership? There is a difference between an upfront price per part and the long-term cost of supplying parts over the production lifetime.
Is the estimate "too good to be true"? Does it contain hidden expenses? Awarding business to the molder with the cheapest tooling and lowest price per part can end up costing more in the long run.

Does the estimate designate the time frame for mold design, fabrication, and providing samples for approval?
Does the process include the initial concept?
Does it include prototypes?
Does it include initial production?
Does it support high-volume manufacturing?
What is the classification of the mold your project requires (listed in descending order according to cost)?

Class 101 molds — designed for 1 million cycles (before major maintenance) or more and fast cycle times. Class 101 mold bases must have a minimum Brinell Hardness Number (BHN) of at least 280, and all cavities, cores, and other molding surfaces must have a hardness of at least 48 on the Rockwell C scale. Guided ejection and temperature control features must be present (e.g., in cores, cavities, slides, and anywhere else possible). Slide wear plates, corrosion-resistant cooling channels, and parting line locks are all required for Class 101 tools.
Class 102 molds — for no more than 1 million cycles (before major maintenance); these are a good fit for parts made out of abrasive materials (like glass-filled resins) and parts with tight tolerances. These molds are still near the top of the mold price range because they are made with high-quality materials. Like Class 101 molds, Class 102 mold bases must be a minimum of 280 BHN, and all the molding surfaces need to be hardened to a Rockwell C hardness of 48. The temperature control requirements are the same for Class 102 tools as well. For Class 102 tooling, guided ejection, slide wear plates, corrosion-resistant cooling channels, and plated cavities are all optional, depending on the total production quantity required by the mold.
Class 103 molds — for no more than 500,000 cycles (before major maintenance). The mold base hardness requirement drops to 165 BHN, while cores and cavities must be hardened to at least 280 BHN. All other features are optional.
Does the estimate reflect your current and future needs for molding tools?
When it comes to molded plastic parts, the old adage is true: You get what you pay for. Choosing a low-cavity tool presents a risk that the tool will not be able to keep up with production requirements.

This guide is designed to delve into some of the specifics to pay attention to when considering a potential plastic injection molding partner.
In the end, making the right selection comes down to communication. The thoroughness, transparency, and accuracy of the information provided by the prospective partner give a glimpse into the future of a working relationship between the two parties.
It pays to choose a partner with a proven track record and a transparent process. Selecting a partner that will collaborate while providing in-house design and production and secondary operations reduces the number of risks, including delays.
If the estimate and information provided to you don't make you feel confident about moving forward, keep looking.
Download the PDF Guide Today!