Complete In-House Plastic Injection Mold Tooling Solutions
---
Crescent Industries has been offering in-house injection mold tooling solutions for over 70+ years with specialization in production tool design along with comprehensive maintenance, repairs, and revisions of existing tools that ensure the life of our customers' tools. Our journeymen mold builders produce injection molds that provide cavity-to-cavity consistency and repeatability by utilizing high-speed CNC mills, die-sink EDM, and wire-sink EDM.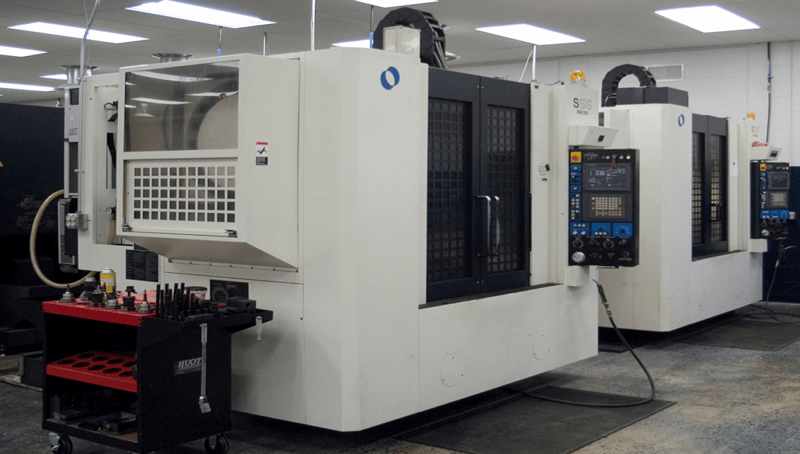 From a simple prototype tool to fully hardened production tools, our injection molding tool design matches the demands of your product to ensure that your tool will always perform with minimal wear and tear.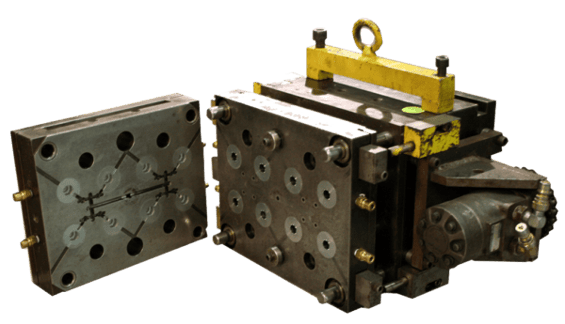 In-House Full-Service Toolroom

Single-Cavity to 96+ Cavity Molds

Documented Maintenance, Revisions, and Repair Services
Injection Molding Tool Design for Manufacturability

Actions, lifters, and unscrewing

Valve-gate, hot-tip, cold-runner, 3-plate
Cost-Saving Solutions
We have invested in an extensive inventory of master mold bases. These frames have interchangeable inserts which allow for quicker and less expensive injection mold tooling designs. We make these mold frames available to house your unit molds and tool sets when your molded product is compatible with this type of tooling. This saves you thousands of dollars in tooling costs.
We know high-quality precision injection molds are key for each component. At Crescent Industries, we draw on our deep expertise to take on your project at any step of development — from concept to production — and are able to assist with design, engineering, manufacturability, secondary processes, and more.
Our extensive engineering experience in fabricating plastic injection mold tools has given us a deep understanding of what makes a successful process. Benefits include:
Engineering- and technology-focused personnel: Our engineers take a scientific approach to design and engineering, ensuring efficiency, quality, and results.
A versatile suite of capabilities: We offer a number of other services to assist you in every step of development — 3D printing for prototypes and testing, plastic injection molding for products, kitting services to aid in finishing and fulfillment, and value-add services such as finishing, assembly and packaging.
Manufacturability expertise: In bridging the process from design to production, manufacturability is a key concern in ensuring quality and efficiency during production. Our engineers take manufacturability into account throughout the entire process and can work with you to apply these best practices to your product. Factors include injection mold tool design, material selection, production time, process choice, and more.
Process flexibility: Whether you are completing all production processes under our roof, or need components or products sent to another supplier, we are ready to assist you in any way we can. Whether for the full design and engineering cycle or just for a certain aspect of production, our expertise is available to make your product the best it can be.
Injection Mold Tooling Capabilities
MUD (Master Unit Die): The choice when a "dedicated or stand alone" mold base is not required. The part, runner and gate geometry are cut into standardized inserts that fit into the frame
Unscrewing Molds: Used when there is a requirement for male or female threads on a plastic component
Hot Runner System: An assembly of heated components used to inject molten plastic into the cavities of the mold
Action Molds: Includes mechanical action incorporated into the design when a hole, slot, undercut or thread is needed that is not perpendicular to the parting line
Two Plate Molds: Provides one parting line and the mold splits into two halves; the sprue, runners, gates and cavities are all on the same side
Three Plate Molds: These molds will have two parting lines and are used because of their flexibility in gating location
PROTECT YOUR PLASTIC INJECTION MOLDING INVESTMENT
Preventative
Once a mold has run a set number of cycles; inspections, maintenance and cleaning should be performed. Different types of molds age at different rates, so scheduling maintenance needs to be documented carefully. Our knowledge and experience gives us the ability to determine the best mold maintenance schedule specific to each injection mold.
Maintenance
Injection mold repairs can be costly. This means it is critically important for injection molds to receive regular maintenance; this is simply the best way to protect your investment and maintain consistent production of quality plastic components. With our on-site tooling facility we provide quick and efficient mold repairs or revisions.
Injection Mold Transfer Simplified

Sometimes it's a necessary but difficult decision to transfer your injection molds to another vendor to run production. We want to make this transition as easy and hassle-free as possible. We follow a documented tool transfer procedure which includes all the steps taken to ensure a smooth tool transfer and limit the loss of production time.
Crescent Industries is here for you, to manage the entire process. Our years of experience and successful injection mold transfers give you confidence that we can manufacture quality products and avoid supply chain disruptions. Don't wait, learn now!

Simple & Complex Solutions
Injection mold building, maintenance, repair, and modifications requires a combination of technology, equipment, and highly-skilled mold builders to produce injection molds faster with nearly limitless geometry for the plastic components. We offer various solutions for your injection mold tooling needs.
Our experience has taught us how to build and maintain the highest quality molds to ensure the production of the highest quality components.
To be your committed manufacturing solution, our team can support every aspect of your custom injection molding and business needs. Our Project Management Office (PMO) manages new high-quality injection mold build and injection mold transfers. They examine the entire scope of your project, timeline & cost management, material selection, design & development and overall integration with your engineering team.
Essentially, you receive a dedicated team of professionals that collaborates, communicates, coordinates and executes. In addition, we have dedicated R&D injection molding machines to aid in initial sampling and validation to accelerate all phases of your project and transition into full production.
High-Precision
Production Machining
As an expert custom Swiss-screw machined parts manufacturer, Crescent Industries utilizes CNC automated equipment and highly skilled journeymen and machinists to produce custom and complex precision components. Our equipment includes several horizontal and vertical CNC machining centers, Die-Sink EDM's, Wire EDM and a 3 Axis/2Axis machining center with a rotary table and capabilities for tombstones and automatic tool changer which achieves extended machining hours and continuous operation. We have invested in CMMs which are located in our tooling facility to perform quality inspections during the machining process to verify precision and accuracy.
Laser-Etching

Annodizing

Plating
Passivation

Deburring

Assembly & Packaging
Inserts can be molded into a diverse range of critical plastic components. These components can be used in housings, instruments, knobs and electrical components. Which can be utilized in the medical, defense, aerospace, electronics/electrical, industrial and consumer markets.
Magnets

Screws

Studs

Contacts
Spring Contacts

Surface Mount Pads

Rivets

Threaded-Fasteners
Clips

Pins

Bushings

Tubes
Over molding has developed into a rather standard process in the field of injection molding. We all enjoy the lightweight, durability, look and feel of modern plastics. Over molding is basically the process of injection molding two different plastics, one on top of or around the other. This results in a single structure that is strong and rigid on the inside yet flexible, colorful and easy to hold on the outside.
The variety of textures also makes over molded products more comfortable and easy to use, ultimately providing more personalized products. This process helps to contribute to safety by making components shock absorbent and covers potentially harmful corners and edges. The best way to produce over-molded plastic components is with a vertical/vertical injection molding machine. As it relies on the gentle force of gravity to clamp the inner and outer parts together.
The advantage of Family-Molding is that the tooling costs decrease and part prices become lower verses a single-cavity tool. However, family tools can be challenging & difficult due to the natural imbalance of material flow in the cavities. Our Engineers have mastered this process ensuring optimal results.
This molding process produces a set of various shaped components molded at the same time and are manufactured from the same material. These injection molds are often ran to produce parts in a set at the same time, individually or in groupings. We utilize mold-fill simulation to learn how parts will fill in the mold to prevent potential problems in the design phase before the tool is actually built. Crescent utilizes sequential valve gating in order to improve performance, reduce variation, and improve balance during the injection molding process.