Do you have a design for a new medical device? Do you have a new or updated product design and need manufacturing support? If so, you may appreciate medical device contract manufacturing. It can help you get your device created and assist you in handling the regulatory challenges that can come with producing medical devices for sale in the United States.
What Is Medical Device Contract Manufacturing?
Medical device contract manufacturing refers to the system by which a company makes medical devices or components that can be sold by another company at a later date. At its core, this process is simply the outsourced fabrication of medical devices that are designed and produced for the medical market.
The reason OEMs like medical device contract manufacturing is because they can utilize their partners to efficiently make products. They may have more than one contracted partner, and each may produce a different medical device and/or components.
The scope of medical device contract manufacturing can be wide, but some of the basic, consistent parts of this kind of manufacturing include:
Designing the process used to manufacture the product
Other post-processing operations like parts decorating, assembly, packaging, and more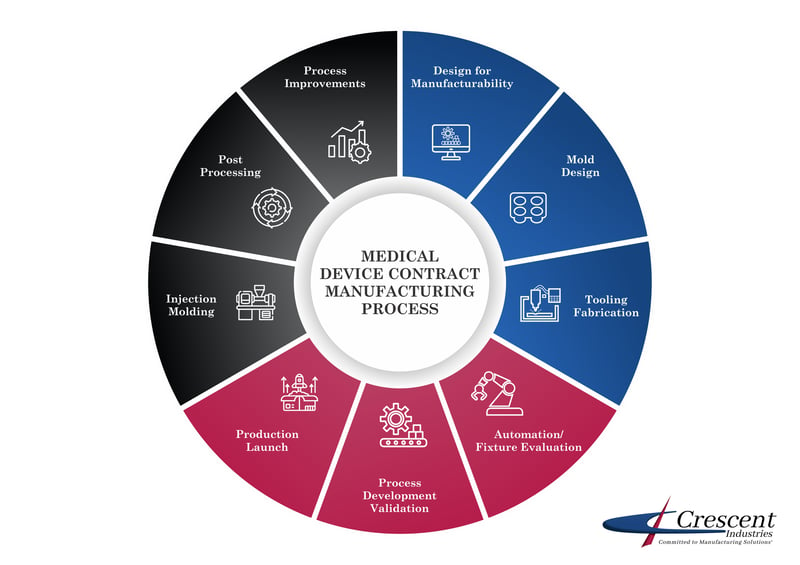 Additional services may also be added depending on the manufacturer and contract.
In What Ways Can Medical Device Contract Manufacturing Be Better for Businesses?
Medical device manufacturing can be an excellent choice because there is the potential to minimize manufacturing issues. The lean method of medical device contract manufacturing is beneficial because it aims to eliminate waste and to improve efficiency and quality.
Your company may appreciate that you can have a faster turnaround time and shorter wait before your product makes it into the hands of end-users when you choose contract manufacturing.

What is a Medical Device/Classification?
The definition of a medical device is highly specific. The U.S. Food and Drug Administration (FDA) sets criteria that define what a medical device is. Specifically, the FDA states that a product is a medical device if the apparatus, instrument, machine, contrivance, implant, implement, in vitro reagent, or other item or article, part, or accessory is:
Recognized by the United States Pharmacopoeia, official National Formulary, or a supplement of them




Intended to affect the function or structure of the body of a man or animal when that structure can't achieve its primary purpose through chemical actions




Intended to be used in the diagnosis of a medical condition or disease

Intended to be used to mitigate, treat, cure, or prevent a disease or illness of a man or animal

Does not achieve its purpose through chemical action on or within the body of a man or animal and isn't reliant on being metabolized

Not software functions, which are excluded from this definition
It is important to note that the industry is highly regulated. Different sectors may need support with varied regulations depending on where they fall in the FDA's three-tier classification system. Quality controls, approvals, and registrations also vary based on how the medical devices are rated by the classification system.
The FDA's Medical Device Classifications
The U.S. Food and Drug Administration has three established classification tiers for around 1,700 generic types of devices. The administration places those into different medical specialties (16 are currently available). These specialties are known as "panels."
The three classes can be broken down into the following controls.
Class I General Controls with or without exemptions

Class II General Controls/Special Controls with or without exemptions

Class III General Controls and Premarket Approval
Depending on the classification your device falls into, you could see differences in your premarketing submission or application requirements and what it takes to get your product cleared to go to market. Class I controls are generally for the lowest risk applications, while Class III controls are for products that pose a greater risk to patients or users.
For marketing a Class I or II medical device that is not exempt, you will need to file a 510(k), which our medical device contract manufacturing company is capable of providing manufacturing documentation.