Injection Mold Design
Engineering
Crescent Industries has a competitive advantage because we aid our customers in product development, from the initial design and our comprehensive DFM analysis with mold flow simulation through production and continued support until the end of the product life cycle. With more than 150+ years of combined experience in engineering plastic services, our engineers have plastics and plastic tooling expertise and therefore are capable of assisting customers whether they have a simple or complex project. Our injection mold design engineering professionals can work directly with your engineering teams in order to provide guidance on the manufacturability of parts ready to be custom injection molded. We can also act as your injection mold designer, outfitting molds with the proper actions, gate locations, temperature control and venting.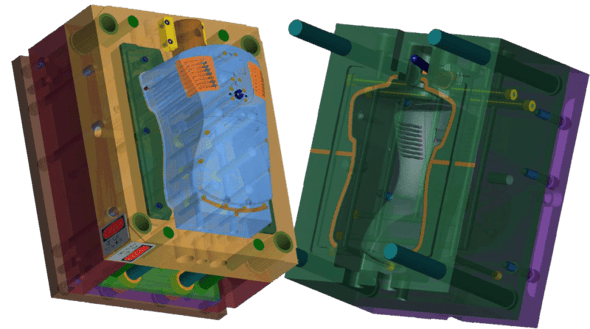 Injection Mold Design Engineering Advantages
With our continued investments in plastic molding engineering resources, our team has the expertise and technical knowledge to assist with your products across various stages and complexity. We love to offer our engineering plastic services and get involved in the earliest stages of product development, making sure our customers gain the necessary plastic molding engineering expertise to avoid any costly hiccups in the development process.
Project Management

150+ years of experience

Design and Development
Dedicated R&D machines

Mold Trials

Sigma Soft Simulation
In each of these industries, we know quality and precision are key for each component. For that reason, we have on-site, dedicated personnel and equipment to perform part inspections for final product success, ensuring that our medical-grade plastics injection molding processes meet all necessary requirements. At Crescent Industries, we draw on our deep expertise in engineering plastic parts to take on your project at any step of development — from concept to production — and are able to assist with design, engineering, manufacturability, secondary processes and more.
Our extensive experience in development and production for pharmaceutical plastic injection molding and other medical applications has given us a deep understanding of what makes a successful process, and we apply the benefits of our CNC milling service to help you achieve that. Benefits include:
Engineering- and technology-focused personnel: Our plastic design engineering staff take a scientific approach to design and engineering, ensuring efficiency, quality and results.
A versatile suite of capabilities: In addition to our CNC machining services, we offer a number of other services to assist you in every step of development — 3D printing for prototypes and testing, plastic injection molding for products requiring both plastic and metal components, kitting services to aid in finishing and fulfillment, and value-add services such as finishing, assembly and packaging.
Manufacturability expertise: In bridging the process from design to production, manufacturability is a key concern in ensuring quality and efficiency during production. Our engineers take manufacturability into account throughout the entire process, and can work with you to apply these best practices to your product. Factors include mold design, material selection, production time, process choice and more.
Process flexibility: Whether you are completing all production processes under our roof, or need components or products sent to another supplier, we are ready to assist you in any way we can. Whether for the full design and engineering cycle or just for a certain aspect of production, our expertise is available to make your product the best it can be.
Design & Development
---
At the beginning of the design process, it is important to seek first-hand knowledge of the injection molding process which can lead to better overall quality for your components. Our injection mold designing capabilities include 2D and 3D computer generated files to maintain the manufacturability of parts ready to be molded or to create a mold design with the proper actions, gate locations, temperature control, and venting.
Our engineers can provide consultation to determine the proper raw materials for your plastic component's specifications and requirements. As a function of product design review, we invested resources into 3D printing (Additive Manufacturing) services to provide clients with a rapid prototyping option all under a single supplier.
DFM Analysis
---
To ensure optimal results, we utilize Sigma Soft mold-fill simulation software; a computer aided 3D simulation of how the mold fills, packs and cools during the injection molding process is generated. This allow a proactive approach to processing problems or potential concerns that can be solved before manufacturing begins and provide insights into potential manufacturability and quality issues.
By completing a comprehensive DFM analysis, we are able to determine the optimal gate location, wall thickness, rib locations and cross sections, cooling line locations, and much more.
3D Prototypes
As a function of product design and development, we offer 3D printing (Additive Manufacturing) services allowing for net build sizes of 19.3″ x 15.35″ x 7.9″ with a layer thickness that includes horizontal build layers down to 0.0006 inches (16 Microns) and a build resolution of 600 dpi for the X & Y axis and 1600 dpi for the Z axis. This is ideal for prototypes, samples and small production runs since they are produced with production grade thermoplastics; painting, gluing, sanding, drilling and bonding with other 3D printed parts can be completed just like any plastic component. In addition, our engineers can provide consultation to determine the proper raw materials for your plastic component's specifications and requirements.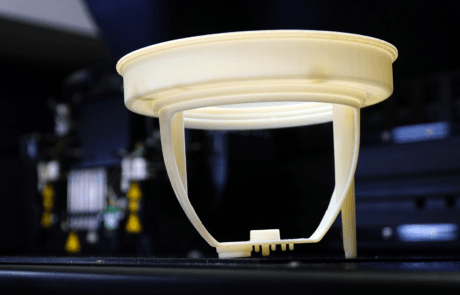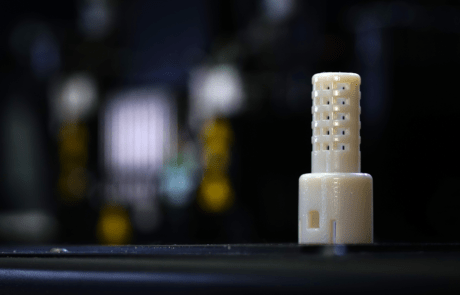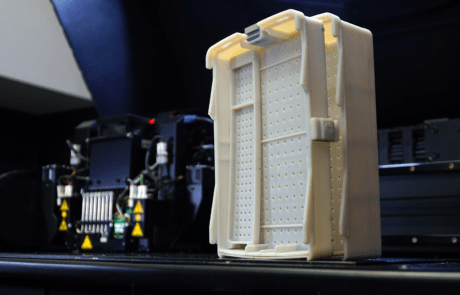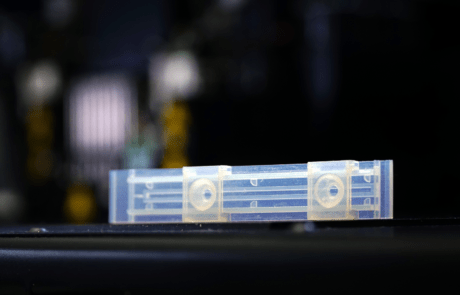 Medical

Pharmaceutical

Military & Defense

Dental
Aerospace

Industrial

Electronics & Electrical

Safety